For all Berserk fans around the world! Ads run simultaneously in three newspapers worldwide Latest volume of Berserk released
 On December 24, 2021, the 41st volume of the popular manga series Berserk (written and illustrated by Kentaro Miura) was released. On the same date, the publisher, Hakusensha, ran ads simultaneously in three newspapers—The New York Times, Le Monde, and The Asahi Shimbun. (Note: In the US and France, the 41st volume of Berserk is set to be released in the summer of 2022.) Three years and three months had passed since the previous volume was released, and with more than 50 million copies(*1) in circulation worldwide, the series already had fans all over the world. We asked an advertising manager at Hakusensha about Berserk's appeal and the aims of this promotional campaign.
More than 50 million copies
(*1)

of Berserk have been published worldwide. Why is the series so loved all over the world?

 Berserk is a dark fantasy that Hakusensha started publishing in series form in 1989. It is an epic tale in which the protagonist, a swordsman named Guts with a massive sword, develops as a person in the course of battling grotesque monsters. Having first taken off in manga form, it was rolled out as an anime and a game as well, becoming a huge hit in all three formats. Berserk mania has now transcended Japan's borders: the series was recently awarded the Best Seinen manga award at the Manga Barcelona convention, for example. Overseas editions have been published in a total of 20 countries and regions, including the United States and France, and more than 50 million copies(*1) are in circulation worldwide. When a deluxe edition of Berserk was published by Dark Horse Comics, a publisher of American comics, it is said to have flown off the shelves despite being priced at $49.99, which shows just how popular it is. Hakusensha's advertising manager explained Berserk's appeal, and the reason it is loved not only in Japan, but all over the world: "More than anything else, it is because of Kentaro Miura's talent for drawing. Each panel is drawn with the same degree of minute detail as a work of art; I think it is this artistic skill that transcends language to attract fans all over the world, resulting in a manga that is so widely loved."
 He went on to tell us about a memorable experience that demonstrates the fascination of Kentaro Miura's talent for drawing. It took place at an exhibition entitled The Great Berserk Exhibition(Dai-Berserk-Ten), Kentaro Miura: 32 Years of Artistry(*2) held at Ikebukuro Sunshine City in Tokyo from September 10 to 23, 2021. "What struck us more than anything was that every single person was spending a long time in front of each illustration. We sensed that those who came to the exhibition were determined not to miss a single line making up the elaborate depictions. And there was definitely something awe-inspiring about Miura's originals, even for those of us who were used to handling original artworks. I am sure that the fans too were astonished all over again at Miura's artistic skill."

*1. The number of copies published includes both hard-copy and electronic versions.
*2. The Great Berserk Exhibition(Dai-Berserk-Ten), Kentaro Miura: 32 Years of Artistry is currently taking place at Hirakata Park Event Hall in Osaka until January 30, 2022.
 URL (in Japanese only):https://www.dai-berserk-ten.com/

Hakusensha's advertising manager offered an additional reason why Berserk is loved all over the world: "Miura himself set his sights on a worldwide readership right from the start, and that seems to have had a major impact on how the series was received. According to Berserk's editor, from the very beginning of its serialization right through to the end, Miura was always conscious of creating something that would be entertaining for readers in any country. So, rather than describing Berserk as a Japanese manga that spread elsewhere, I think it would be more accurate to regard it as accessible to readers all over the world because the content was aimed at a worldwide readership in the first place."
He explained that when information is posted on the official Berserk twitter account, half the replies, retweets, and other responses come from overseas. The official twitter account also receives a great many examples of fan art from overseas with the hashtag #BERSERK. What is more, he revealed "An Italian tourist once turned up at Hakusensha unannounced, wanting to meet Miura. I have never heard of that happening with anyone else." An incident such as this is incontrovertible evidence of the passion of overseas fans.
Ads run in The New York Times, Le Monde, and The Asahi Shimbun on the same day
Ever since Berserk was first serialized, its fans all over the world had waited in anticipation for the next part of the story. When the 41st volume was released in Japan on December 24, 2021, it was promoted simultaneously in three newspapers around the world, with ads run in The New York Times, Le Monde, and The Asahi Shimbun on the same day.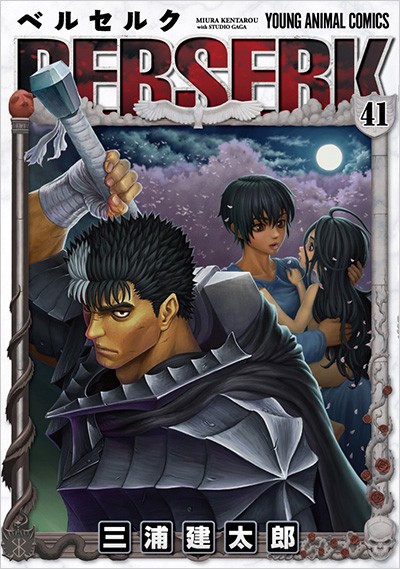 The Hakusensha advertising manager explained the background to the placement of the ads: "As a company we had always felt that we wanted to acknowledge the support of fans around the world and convey our gratitude to them. Meanwhile, over the past few years the widespread use of digital media has instantly created a borderless world, enabling the manga market to spread rapidly internationally, and this too was a contributing factor. Our simultaneous promotion of Berserk in three newspapers around the world—The New York Times, Le Monde, and The Asahi Shimbun—was a first among Japanese publishers. We identified Berserk as the perfect manga for such an undertaking, and decided to run the ads in quality newspapers in cities where comics are popular."At first, Hakusensha considered running an entirely digital ad campaign, but in the course of repeated internal discussions, they landed upon the idea of using newspapers: "What made us decide to use newspaper ads was above all the texture of paper, which would enable the appeal of Miura's penwork to be reproduced to the maximum extent. Other key reasons were the sense of size that can only newspapers can reproduce, and the fact that newspapers can actually be delivered to readers in tangible form. We felt that something tangible delivered to readers in the real world would be more likely to move them than image data accessed digitally."
Describing the appeal of newspapers as a medium he said, "Another plus point was that newspapers reach lots of people on the same day, so we could instantly accelerate the rate at which Berserk became a hot topic. And we were expecting the newspapers to spark excitement on social media as well. In addition, while Berserk may have plenty of fans, not everybody in the world reads it, so we hoped that placing it in mass-circulation publications such as newspapers would enable us to appeal to people who had not yet read Berserk."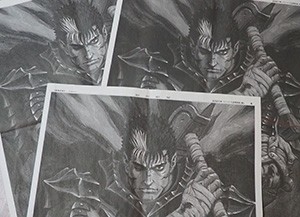 Trial print run in the printing plant
Another interesting aspect of this promotion is that the page designs were different for each of the three newspapers. The advertising manager explained: "For The Asahi Shimbun and The New York Times we selected illustrations that would make a strong impact precisely because they were black-and-white. As it was extremely difficult to actually reproduce Miura's color illustrations in black-and-white, we had The Asahi Shimbun's printing plant undertake multiple trial print runs of different versions. It was thanks to these trial print runs that we were able to ensure that the final images accompanying the ads were of a satisfactory standard. In Le Monde's case, as the newspaper's format is a little longer vertically than Japanese newspapers, and the ad was in color, we used a full-body illustration, and it fitted very well. For the two overseas newspapers we arranged a collage of manga panels in the background of the images, so that even people seeing these images for the first time would realize that Berserk is a manga. All the illustrations were selected from the latest volume. Volume 41 offers the further narrative development that fans have long been waiting for, so we hope the overseas fans will get excited about its coming release."
In the US and France, the new volume will not be released until summer 2022. We therefore included QR codes with the ads in The New York Times and Le Monde: readers of The New York Times could use the code to read the Berserk Official Guidebook free of charge for 10 days from December 24, 2021, and could access gifts such as a deluxe book or a virtual background. Le Monde readers could use the code to read the opening episode of the latest volume. We hope that these gifts came as unexpected Christmas presents for fans in the US and France.
We want fans all over the world to talk to each other using the #BERSERK hashtag
Although each of the page designs differed slightly, there was a theme common to all three newspapers, which was to avoid saying too much in words: "We came up with several ideas for ad copy, but in the end, we decided that no words were necessary to convey the appeal of Miura's illustrations. We thought that, if people wrote their impressions on social media using the hashtag #BERSERK, then every single thing they said would serve as ad copy. We might receive indignant comments from overseas fans demanding to know why Volume 41 was not being released simultaneously worldwide, but we looked forward to fans offering all kinds of opinions, including comments such as these. There are probably not that many opportunities for people around the world to give their own impressions about the same manga at the same time using the same hashtag, and we wanted it to build up into a really lively celebration. The livelier it gets, the more chances there should be for somebody's impressions to serve as ad copy and reach people who have not yet read Berserk. And if this leads to the Berserk fan community spreading further, I will be delighted, not only as an advertising manager at Hakusensha, but also as a Berserk fan."
Alongside the release of the latest volume of Berserk, December 24, 2021 saw the release of an entirely new manga series, Duranki, also written and produced by Kentaro Miura. When we spoke prior to December 24, 2021, the Hakusensha advertising manager said that the celebration of Berserk on that date, involving people all over the world, was set to be an unforgettable day for fans. He suggested that those who had not yet read any Berserk should read it all at once over the new year's holidays. No doubt all the other fans of Berserk would join him in saying that they envy those who can look forward to the enjoyment of reading Berserk for the first time.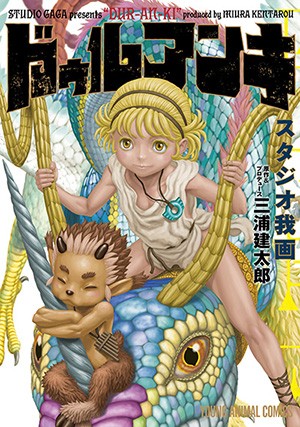 Official website (in Japanese only) https://www.younganimal.com/berserk/
Click here for Japanese(Japanese)